Note: This is a simple method but often overlooked or unknown. AC uses timescale to pause the game, so to run animations during this time you need to do the following:
Find your character, menu, prop, etc and go to the Animator component.
Look for the Update Mode drop down menu.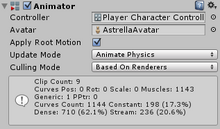 Change the option to Unscaled Time.
This method applies to any object which uses the Animator component.
-Tip provided by user SilverVoo, contents reformulated and edited by Alverik-
Ad blocker interference detected!
Wikia is a free-to-use site that makes money from advertising. We have a modified experience for viewers using ad blockers

Wikia is not accessible if you've made further modifications. Remove the custom ad blocker rule(s) and the page will load as expected.